Morocco and Spain: Part 2; Spain
Spain
We arrived in Spain fresh off of our Morocco ferry, happy to have had wine on the way (it's difficult to find and purchase alcohol in Morocco) and ready for some different food and scenery.
We ended up walking from our ferry terminal to our hotel, which was about a mile, which was a great introduction to Algeciras—a small port town with not much else than a few hotels and restaurants.
As we got closer and closer to the hotel, we could start to see how grand and beautiful it was—which made us even more excited than we already were! Once inside the hotel, they showed us to our room, which was a small room on the first floor. We really wanted to experience the grandeur of the hotel, so we asked for an upgrade and ended up getting the Presidential Suite. It was completely worth it for the cost! It reminded me of something out of Downton Abbey, and we even had a gorgeous view of Gibraltar from our window.
We only stayed in Algeciras overnight, and then the next morning we checked out of the hotel and made our way to the bus station. We were planning to take the bus to Malaga, have lunch and see Pablo Picasso's house and then take the high-speed rail to Madrid, but, not everything can always go as planned! We got a late start and ended up missing our original bus to Malaga, so once we got into town we literally sprinted to the train station and barely made our train to Madrid. We will have to go back to experience Malaga and see where Pablo Picasso grew up!
The train ride, even though long, was AMAZING. We splurged and got first class tickets, which I would recommend for the longer (5 hours or more) train rides. We had AC, enormous comfortable seats, plenty of snacks and even had a meal and wine served to us midway through the trip.
Once in Madrid, we hopped in a taxi to go downtown near Plaza del Sol and find our little Airbnb. I have to point out that I told Joaquin the name of the street we were staying on about five times before hopping in the cab, and he still managed to tell the cab driver the wrong name- ha!
Our Airbnb was in a beautiful old building on the very top floor, where we had a small loft to ourselves. Our host was impressive and had put out tapas and (more) wine for us, which I don't think we even got around to drinking since there was such an abundance of wine while in the country!
We dropped off our bags and immediately went out to explore Madrid. I lived in Madrid for a year during grad school, so 99 percent of our stay in the city was me showing Joaquin my favorite spots, which ended up working out really well! I was surprised and delighted to find that two of my favorite restaurants in the city from 2011 were still there and still very popular.
We walked through Plaza del Sol and had a difficult time finding the "Origen de las carreteras radials", but finally found it and snapped a pic. It should've been a giveaway that several tourists were in this spot snapping pictures of their shoes!
After touring the plaza, I took Joaquin to my favorite spot to graze on snacks- Mercado San Miguel. Here, you will find tons of stand with gourmet tapas and plenty of wine and cava (the Spanish version of prosecco) to wash it all down! I highly recommend walking through and trying as much as you can when you visit!
After the market, we walked through a few more touristy spots before going to my favorite place to watch a sunset in Madrid, the Temple of Debod, an Egyptian Monument in Madrid that overlooks the city.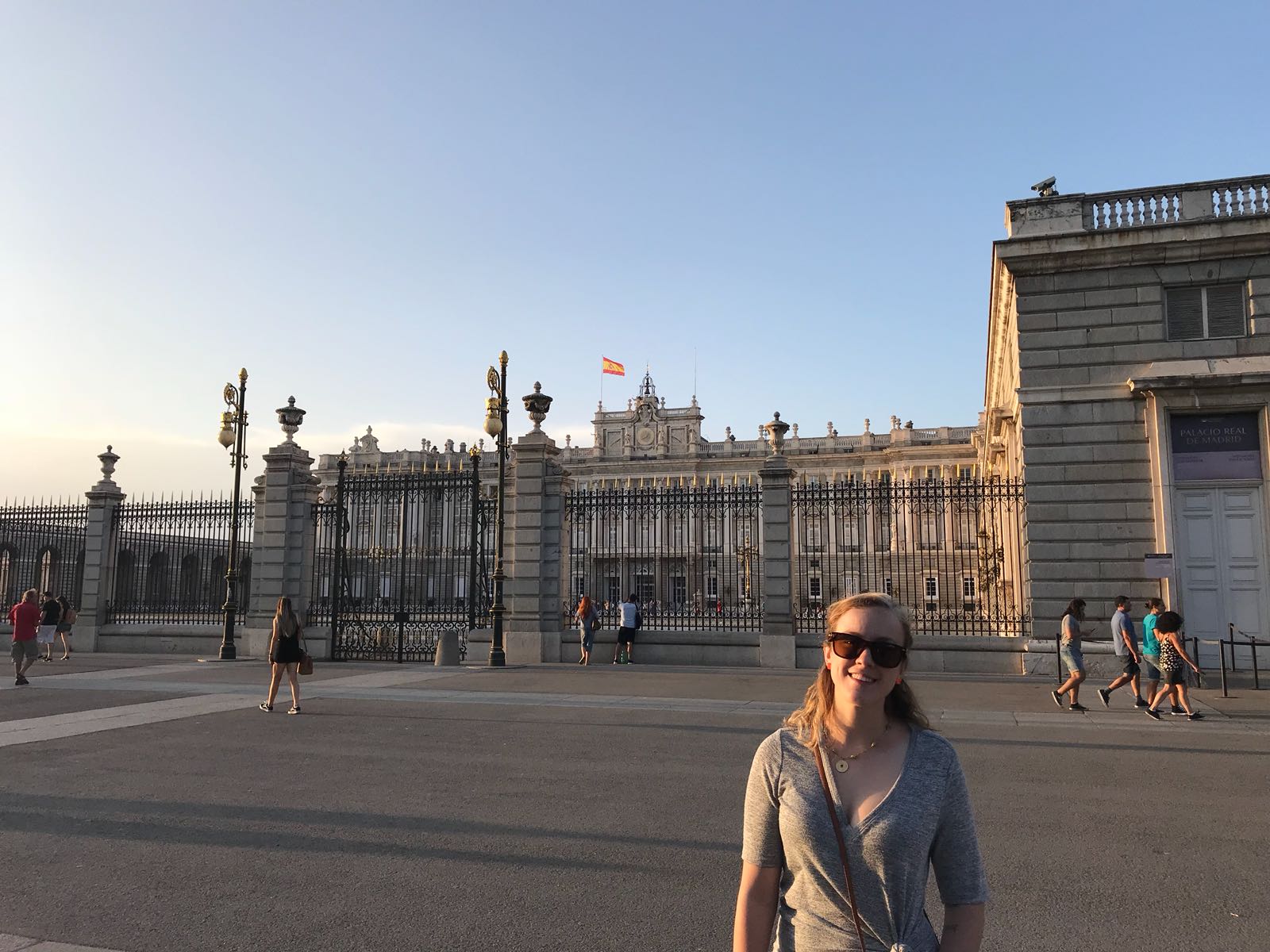 Once the sun started setting, we began another trek to the first of my favorite restaurants in Madrid. I'm not a hug fan of the typical Spanish or Madrilena cuisine, so I took Joaquin to a Galician restaurant for his first real Spanish meal. I had also lived in Galicia for 3 months, in Cambados specifically, as a grad student; so it was great to be able to share that culture with him as well! We ate a ton of delicious seafood and even had a chance to watch the restaurant make Quemada—a famous Galician party drink made by lighting an enormous bowl of liquor on fire!
The next day, I planned more nostalgic activities- walking by the bull fighting ring in Madrid, walking directly up Avenida de los torreros to my old house where I lived as a graduate student, and then walking through Retiro Park and renting a boat to go out on the lake!
I grabbed a typical Madrilena snack on our way out to the park- a calamari sandwich- which was delicious as far as Madrid food is concerned, but Joaquin refused to try it. He instead ordered an empanada (which looked nothing like the Chilean/Argentinean versions) and hated it just as much as he thought he would've hated the calamari sandwich. Strike 1 for food in Madrid!
After playing in Retiro Park and having a fantastic time on the water, we went to la Reina Sofia museum to check out the Dali paintings and Guernica before heading to tapas and then dinner. I had thought it would be fun to try La Latina neighborhood for tapas; a neighborhood famous for these Spanish snacks which are served at every restaurant in the area. We had a few good tapas on our trek throughout La Latina, but overall, another Strike 2 for food in Madrid for Joaquin- however, I knew he would appreciate my pick for dinner the second night much more than the tapas.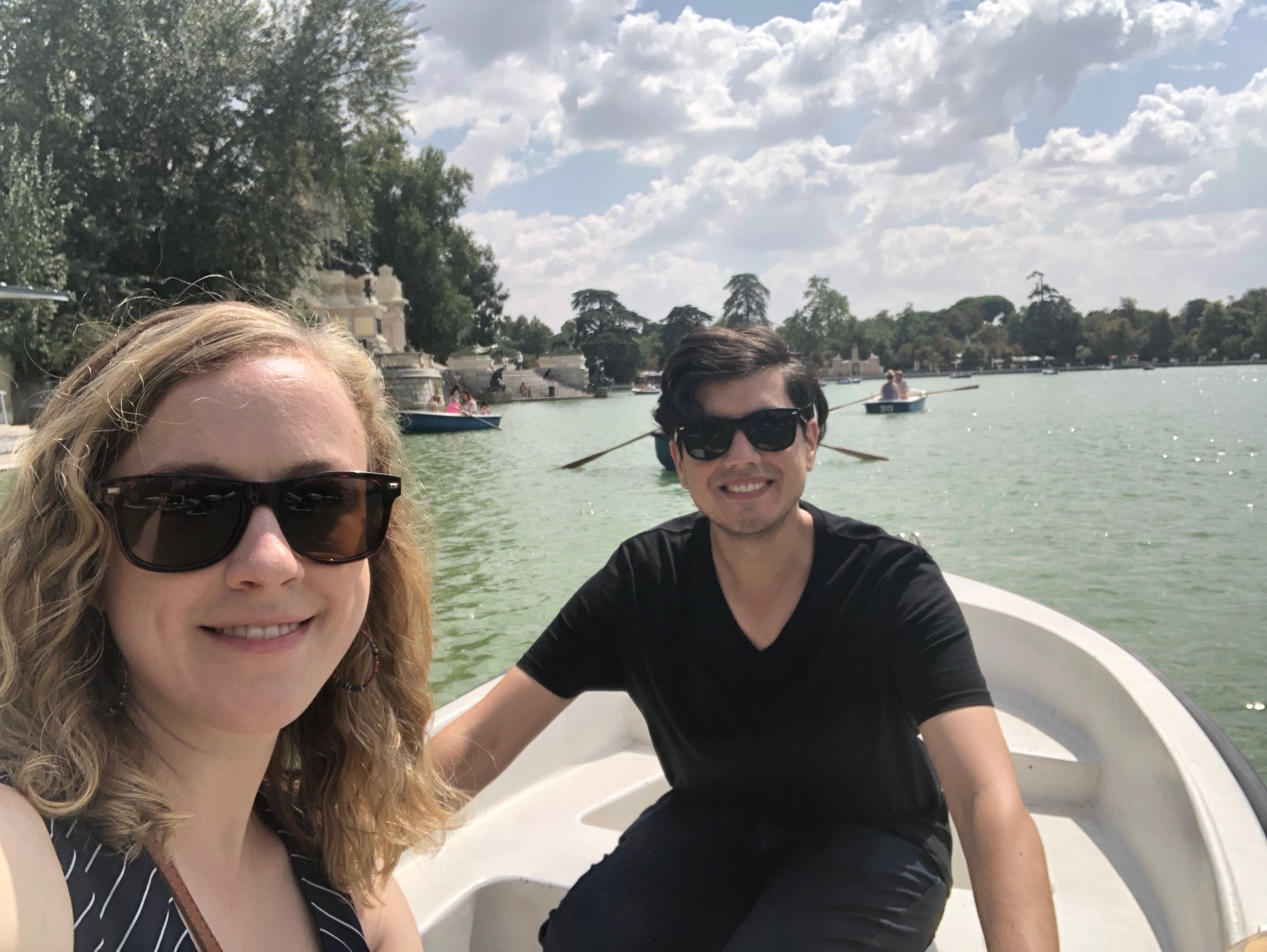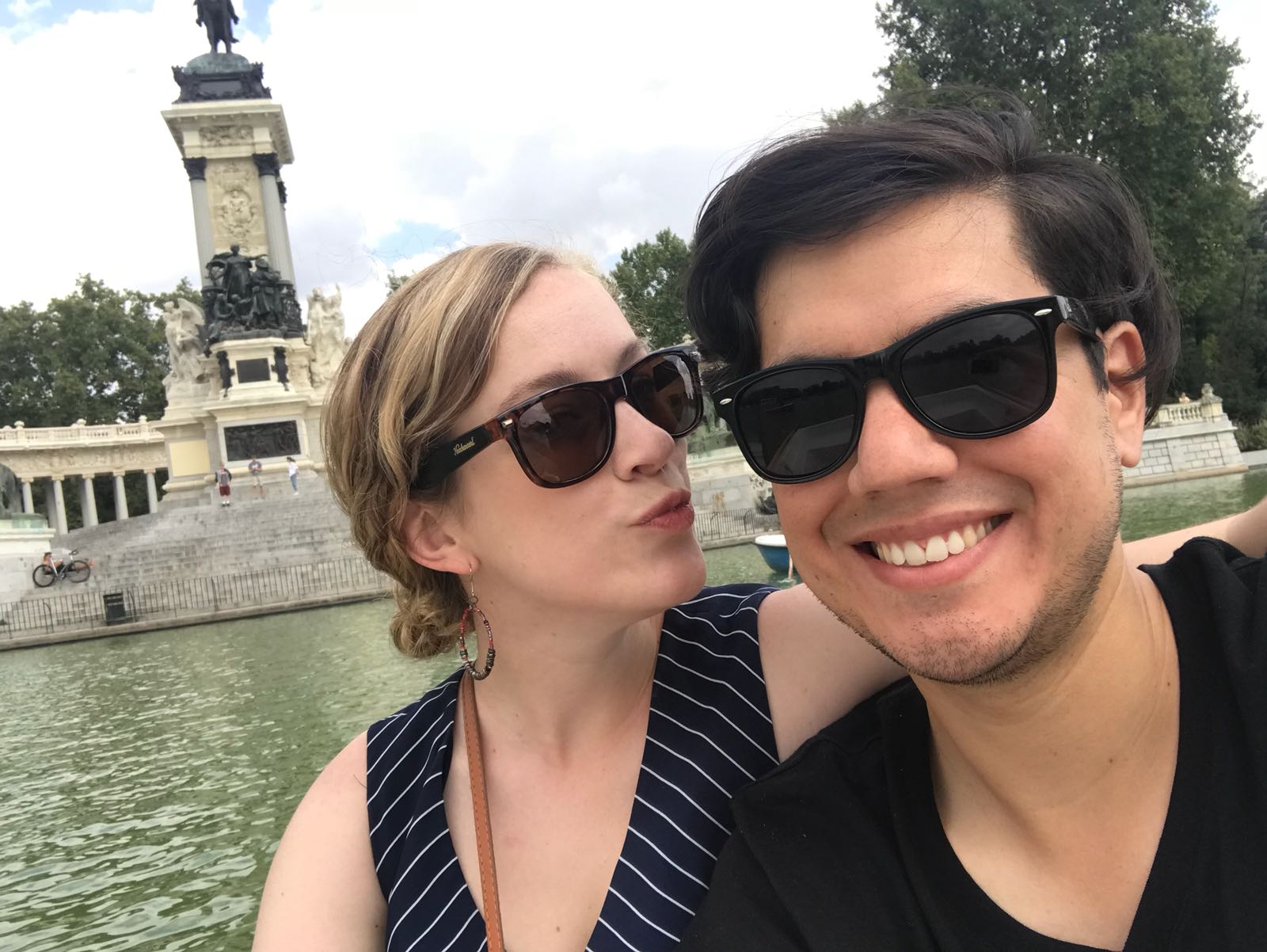 We made our way after only 2 or 3 stops in La Latina to our dinner spot, "La Negra Tomasa", an absolutely amazing Cuban restaurant where they have live music and dancing every night! Joaquin was much happier there and we had a great time eating some Cuban snacks and enjoying the atmosphere—it was just as fun as it was 7 years ago!
The next morning, we woke up in our little Airbnb and packed up to head back to the train station and catch another high speed train to Barcelona. We opted for first class again and had the same great experience that we did on our way into Madrid, complete with more wine and a served meal.
I had been to Barcelona before in grad school to visit friends, but my friends had only given me a tour of the bar scene and the beach—which, as much as I love the beach, there was so much more in Barcelona I had wanted to see!
Luckily, this time with Joaquin, we got to see everything we were interested in! We started off with Familia Sagrada, and I have to say that even having heard it was amazing, I was completely blown away with the architecture and the beauty. This church is really the crown jewel of the city; we could've spent all day there if we had had more time.
Next, we made our way to Casa Batllo, which was my number one thing I had wanted to see in Barcelona. It also did not disappoint! The architecture of the house is incredible and the most creative architecture I have ever seen; there were so many unexpected attributes of the house that made the entire tour enthralling. When we go back to Barcelona I'm definitely returning to both Sagrada Familia and Casa Batllo because we enjoyed them so much!
Our next priority after seeing a few tourist spots was, of course, the beach! We wandered around the restaurants on the water to find a spot for paella, but once we finally sat down and had some, it ended up being another strike for food in Spain…note: the paella at the touristy beach restaurants is not great. But luckily, we had expected as much!
After dinner, we walked around on the beach until dark and then I downloaded an app, "SkyView", to guide our star gazing as the sky was super clear and we could see an impressive amount of stars.
The next day, our only plan was to hang out at the beach. I love the beaches in Barcelona for many reasons—they bring around mojitos and sangria (we had both), they come around and offer massages and henna tattoos (of course I got a tattoo), and the water in the Mediterranean is calm and perfect for swimming and hanging out!
We spent many hours having cocktails, swimming, and eating snacks on the beach. Around 5pm, I walked us over to a pier with sailboats, where we ended up getting a sailing expedition with a local. This sailing adventure was a perfect way to end the day in Barcelona- our guide gave us wine (never enough wine!) and even shared tapas with us. He also explained to us the local way to eat tomato toast—rub raw garlic heavily directly onto toast, and then add crushed tomato and cheese! It was delicious! We even stopped the boat once out in the sea to have a quick swim- again, the water is so calm and perfect for this!
Our last day in Barcelona, we had time to take a long walk on the beach after breakfast (Joaquin's choice was questionable) before showering and packing everything up. My only regret for our entire trip is not staying longer—I think we would need about three times the length of the trip to get the full experience of each city we visited!