Work Trip: Amsterdam
When I got an offer from work to visit our Amsterdam office I jumped on it immediately. I have traveled to Asia for work before, and I lived in Europe for a full two years, but I'd never been to Europe before on a work trip.
My first and only visit to Amsterdam prior to this when I was 21 was horrible; if you can even imagine having a horrible time in such a beautiful city. Long story short, I went with my boyfriend at the time and he invited two friends last minute. We spent the entire time walking up and down the Red Light District, going to buy "things" at cafes, and generally doing absolutely nothing worthwhile. What made it even worse was when I cried about having a miserable time to the then-boyfriend, he flipped out about me ruining the trip (fun fact: I had paid for the whole thing).
Fast forward to my most recent visit and I am happy to say it was completely different! My fiance, Joaquin, decided to tag along and it was only his second time in Europe, so I was super excited to show him around and experience the city with someone I loved.
Our first weekend in town was a bit chilly and rainy--nothing we aren't used to after a winter in San Francisco--but we made the best of it and went on a boat tour anyway! We also spent a ton of time just walking through the small cobblestone streets, including the amazing flower market, and eating snacks (including lots and lots of random cheese tastings to find the best truffle cheese).
Amsterdam also has a ton of museums; I had already been to Van Gogh on my previous trip (probably the only nice thing I did and I went alone), so Joaquin was saving that for the week while I was at work. We did however happen upon an incredibly cute cat museum, which I highly recommend! It's small and you won't spend much time there, but there are a ton of cats inside to pet and it's a great escape if it happens to be raining.
The week in Amsterdam really flew by. We were both working, me from my office and Joaquin from the hotel, and I even had to take a few conference calls at night from the hotel to connect back with the US team. Joaquin got a good amount of exploring in during the morning hours, which made me happy. We also tried to make a point to go out in the evenings, even if we just walked to dinner and back! We both love exploring new places, so we energized each other and kept the adrenaline going all week. Amsterdam is a very safe, clean city; so walking hand in hand and having a romantic stroll through the canals in the evening was a perfect after-dinner activity for us each night.
By Friday, we were happy to be done with work and have the full afternoon, evening and weekend ahead of us! I left work early to meet Joaquin in Vondelpark and eat some "chips" (french fries, double fried and best served with Belgian mayonnaise). After we laid in the sun for a bit, we made our way to Anne Frank's house. I had really wanted to visit her house the first time I visited but was unable to, so this was an incredibly meaningful experience and I was glad that I got to do it with Joaquin. We were both really impacted by the museum and all of the history it holds.
After the museum, we stopped for a few beers (Joaquin ordered the Rose beer picture below, not me...) before heading out for dinner and more activities. I have one picture from our wild night in the Red Light District--a cute polaroid--which is totally appropriate because I'm not sure we would want more evidence of our adventures (ha!).
Our second weekend in Amsterdam together was really the highlight of our trip. Similar to my feelings visiting Giverny while in Paris, visiting the Keukenhof Gardens and Tilburg to drink Trappist beer (brewed by monks!) were my favorite part of the Amsterdam trip.
To get to Keukenhof gardens, we rented a nice little Audi and left Amsterdam early to try and beat the crowd. The gardens are only in bloom for a short time during the Spring, and we happened to be lucky enough to be in Amsterdam while they were in bloom. However, it meant they would probably be packed. Leaving early definitely saved us, though; there were hardly any other people there until we were ready to leave later that afternoon!
The gardens themselves were so impressive- we were both shocked by how beautiful everything was. We hadn't known what to expect, but it definitely exceeded anything either of us thought it would be!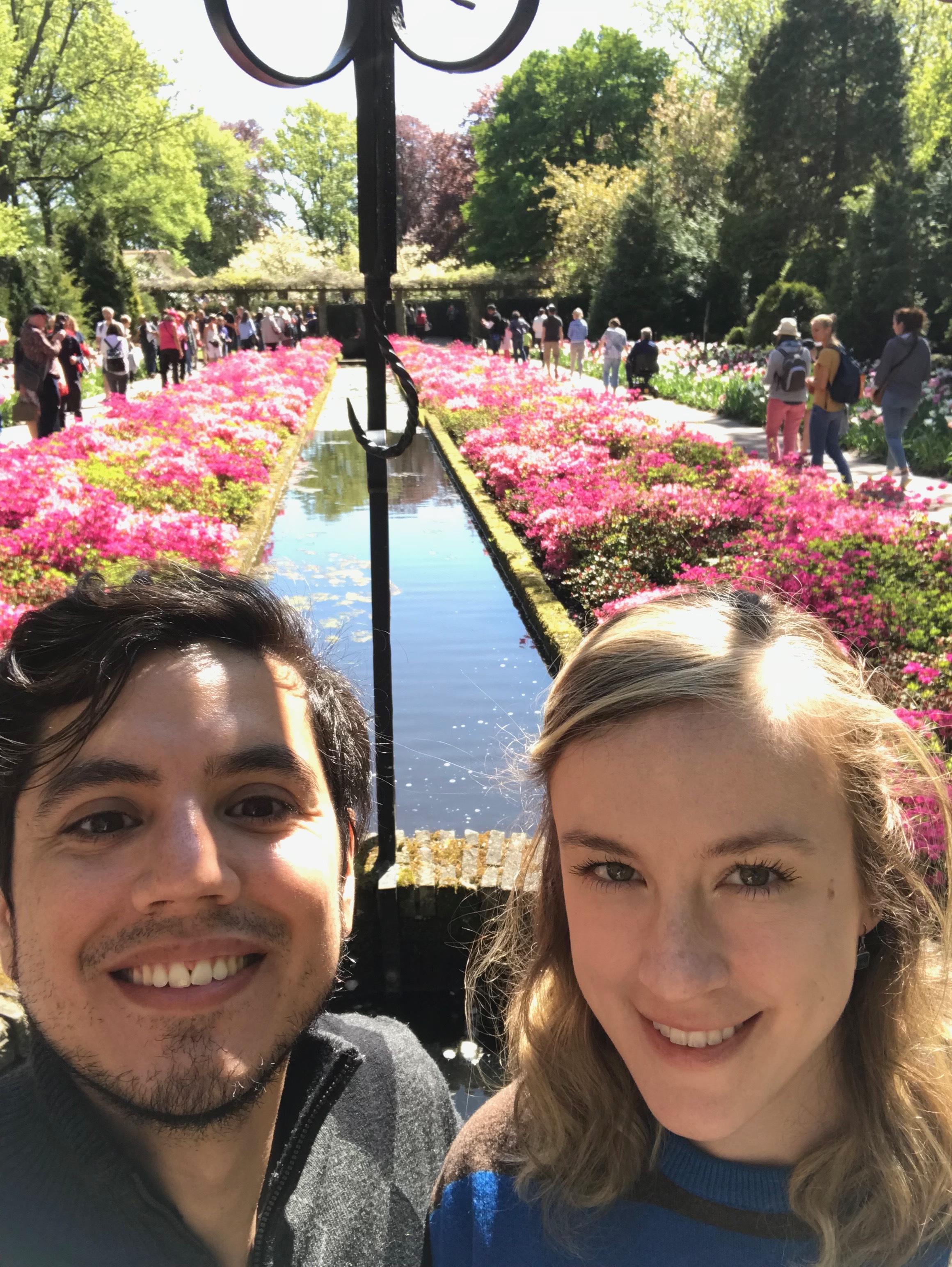 After we left the gardens, we drove another 2 hours or so south to Tilburg. When I asked Joaquin what he wanted to do in the Netherlands, his only request was to visit a Trappist brewery, so we made it happen!
Driving into Tilburg was like a dream- we passed so many stone houses with thatched roofs, so many animals and so much greenery. By the time we arrived at the brewery, we were starving and ready to taste the delicious beer! The brewery itself was on beautiful grounds, complete with several prayer sites. The only thing we did not get a picture of which I regret is the "bitterballen" we ordered--basically meat stew rolled up in fried dough, served with mayonnaise (obviously) as dipping sauce. I think we ate them too fast to even contemplate a picture!
We left the brewery when it closed around 6pm and headed back to Amsterdam. Luckily Europe gets a lot of sunlight and long days during the summer, so by the time we returned our car it was still light out and we had time to make some last minute plans to explore the city some more.
It was the eve of my 30th birthday, something I originally didn't want to celebrate to extravagantly, but since we were in Amsterdam we basically had no choice! We were able to hop on one of the last boat rides of the evening while the sun was setting, which made for a beautiful view and a romantic ride (complete with more Rose, of course). After the boat ride, we somehow found the most amazing gay bar in Amsterdam, complete with dozens of disco balls, and we celebrated my 30th here! Afterwards we went to Kareoke--although we probably should've gone home--because getting on the flight the next day was rough (but so worth it).
I'm not sure when we'll be back in Amsterdam, but I'm excited to show Joaquin Spain next in September!