Sisters in Paris
My sister and I had never been to Paris before. Leaving the airport and driving into the city, we both started to get the same impression of Paris as we drove through the winding streets to our Airbnb--it was grungier than we had expected. In a good way. We had seen pictures on social media and tour sites of the beautiful and clean Champs-Elysees, the Eiffel Tour, the ornate restaurants with velvet curtains in "Midnight in Paris"...what we saw wasn't at all what we had expected, and we loved it.
Something about the grunginess made the city seem immediately more real, more livable. We could see ourselves spending not only the next ten days there, but months. Maybe we should move to Paris. It seemed more homey--more like SF, Chicago and other places we had spent years living--and we felt comfortable right away.
Even though we were jetlagged, we spent the first day exploring as much as possible in our new (temporary) home. We loved the streets that were impossible to navigate even with Google Maps, the vendors yelling out to us to buy little sandwiches, and the slight drizzle as we made our way towards to Seine.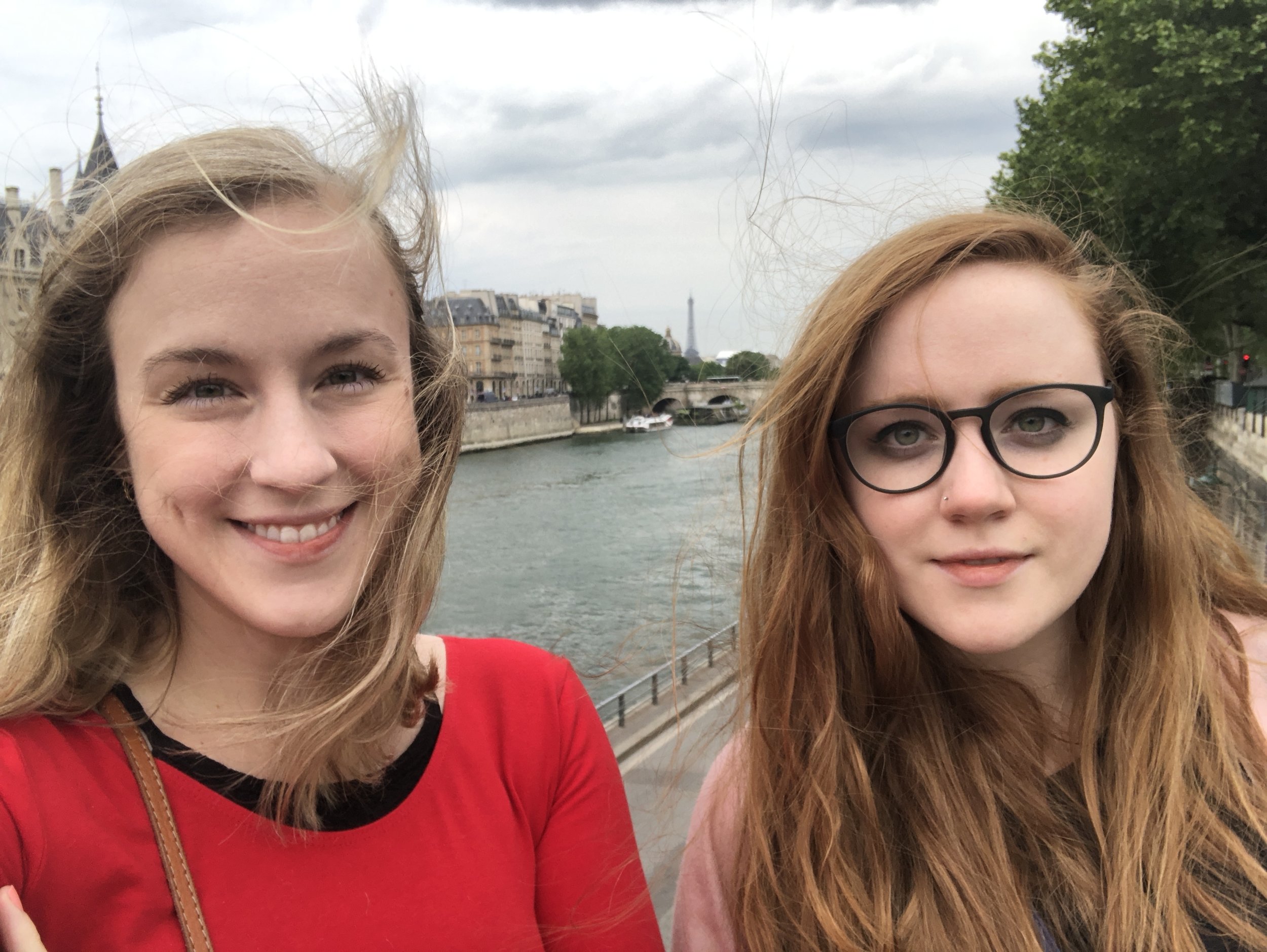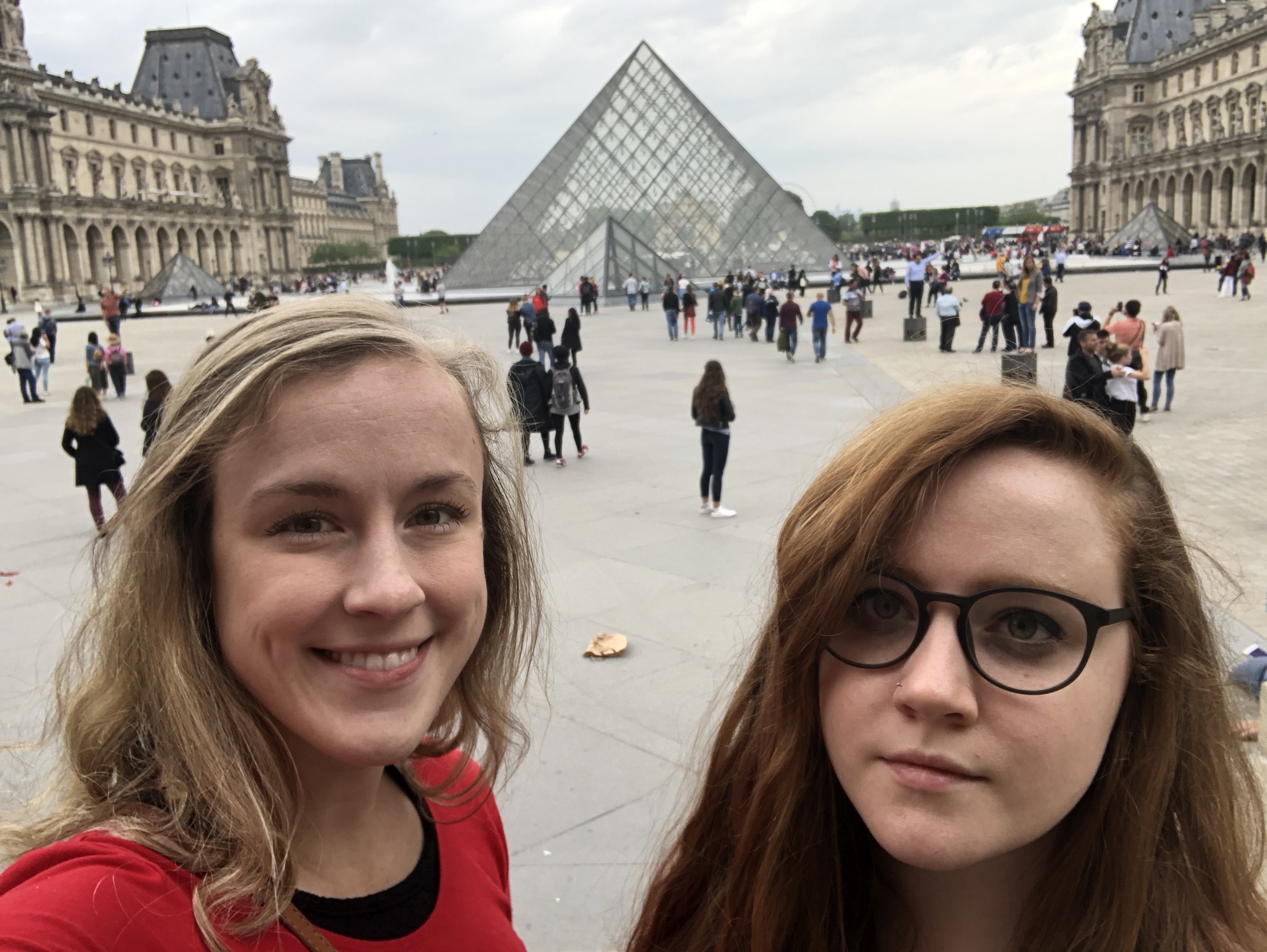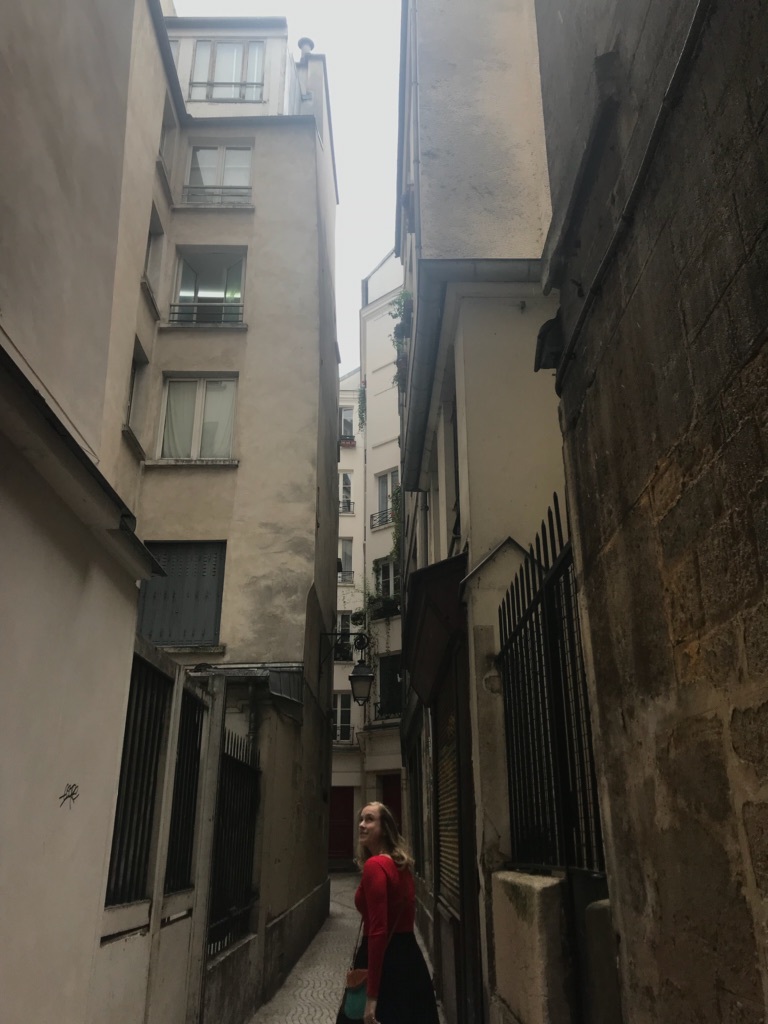 After touring as much as possible given our jet-lag, we returned to our Airbnb to freshen up before going to Le Train Bleu for dinner. This was probably my favorite dinner the entire time we were in Paris--I'll be returning next time I get a chance to visit. It's inside a regular train terminal, which is the perfect atmosphere for this Parisian treat--and they serve some of the most amazing food I've ever eaten. Not to mention the inside of the restuarant, although in a train station, looks more like you're dining in one of the Napolean Apartments which you can now only see through Louvre tours.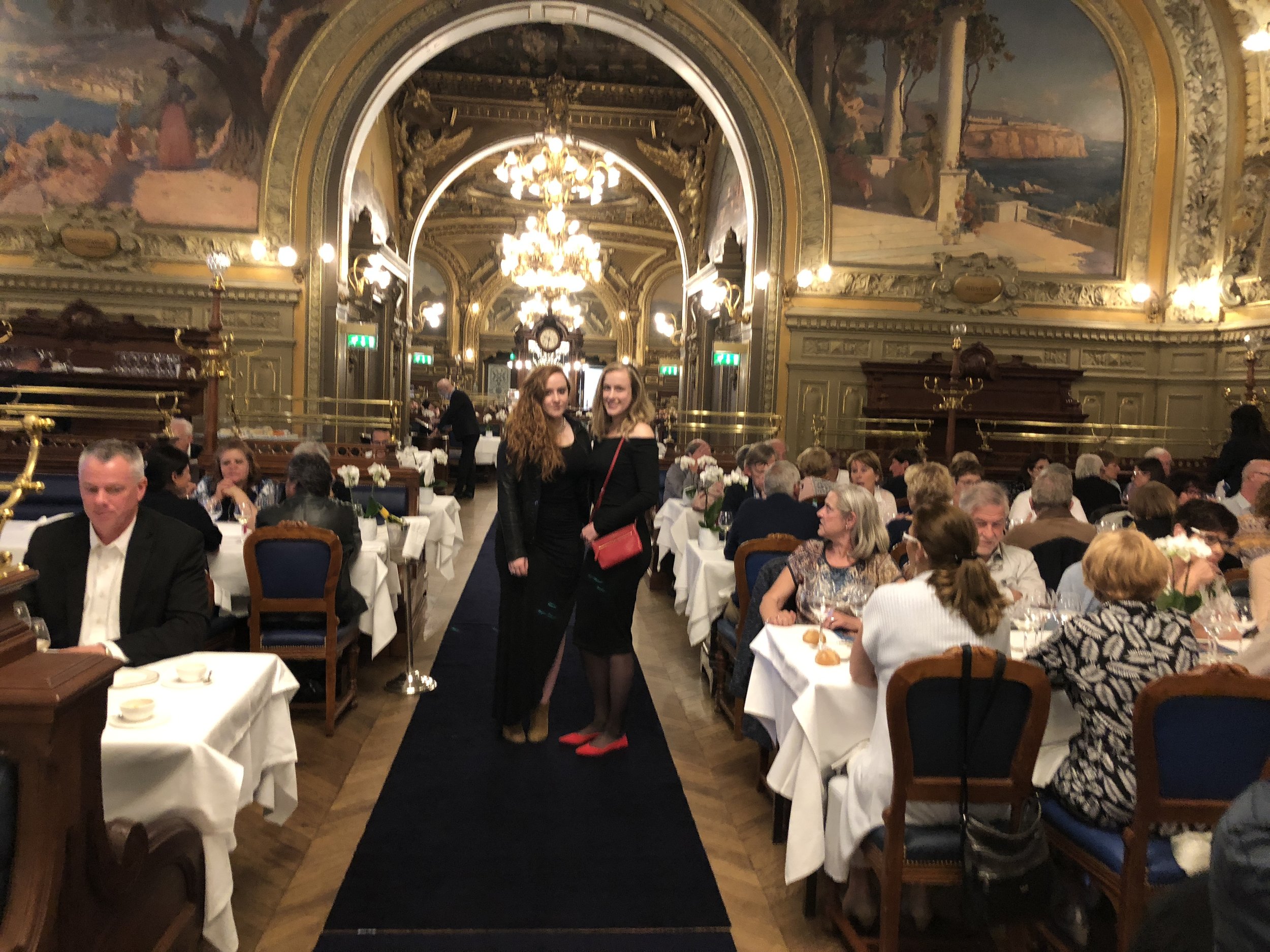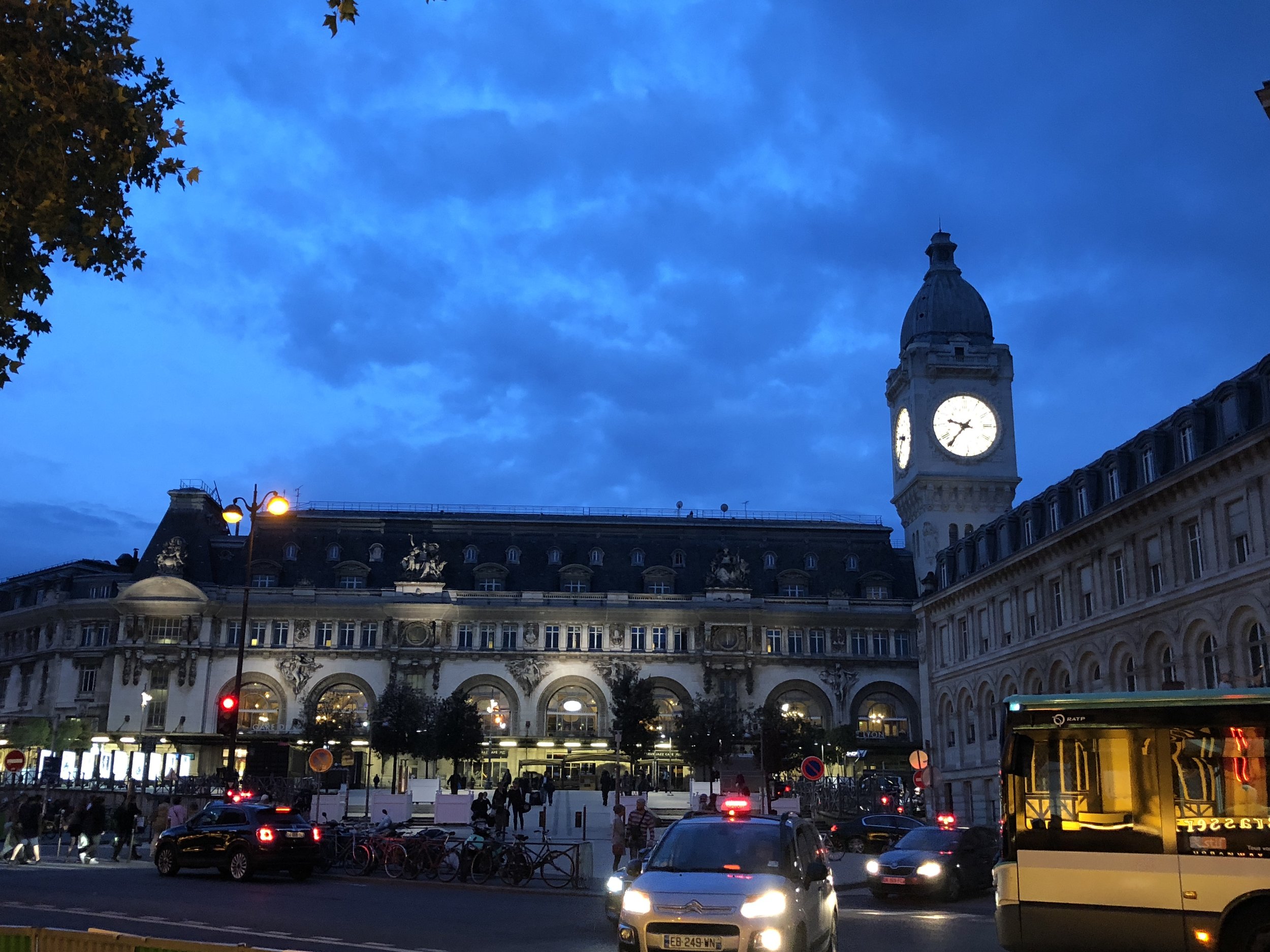 As much as we enjoyed wandering Paris aimlessly and exploring, we made sure to visit a few of the hot tourist spots. We were in luck when we visited the Picasso Museum--Guernica had been transported in for display from Madrid- and Notre Dame was beautiful; my only disappointment there was that the "crown of thorns" on display was actually veiled by a dark red case, so you can't see anything!
My favorite activity for our whole visit was the VIP experience at Moulin Rouge. It's expensive, but incredibly well worth it. From the moment you arrive, you have a private host offer you gifts, guide you to your seat, and bring you champagne. The highlight of the VIP treatment was the seating--on a balcony well above the rest of the tables--where we got to watch one of the most impressive shows I have ever seen. The entire Moulin Rouge show is comprised of over a dozen short acts, which blew me away--from swimming with pythons to acrobatics on rollerblades, the show was not what I expected (in a good way) and I would definitely go back and do it all again!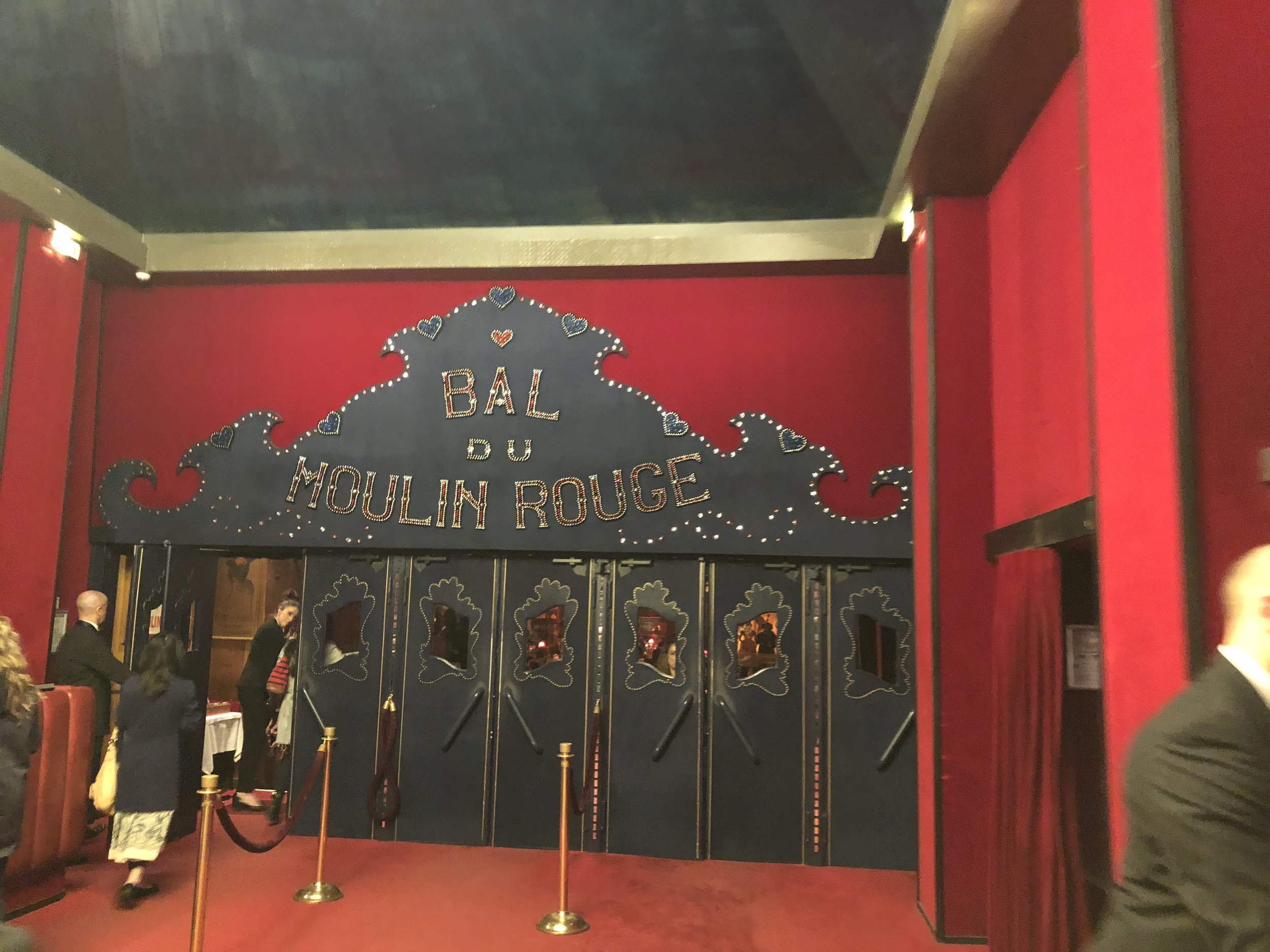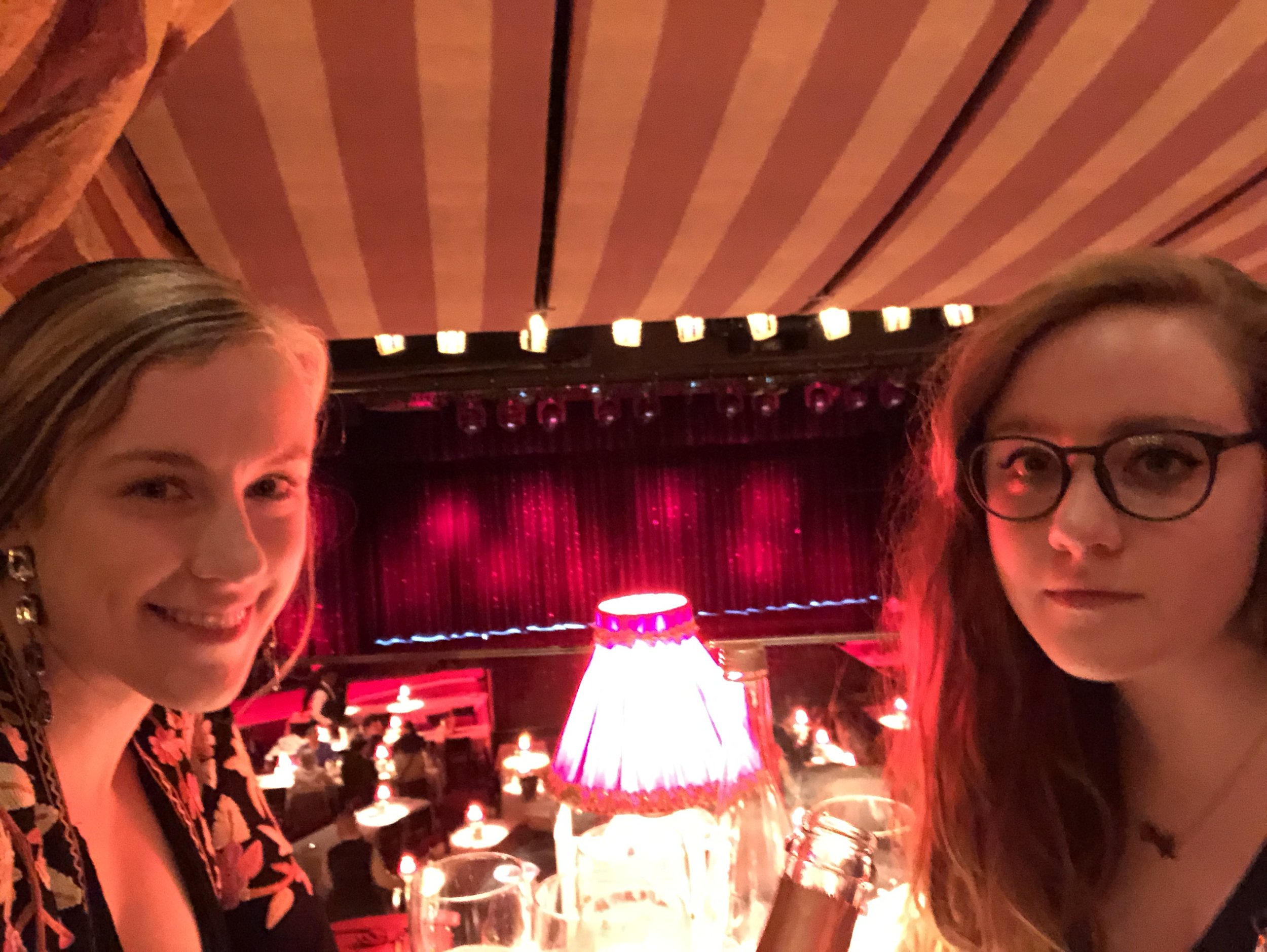 And of course, no trip to Paris is complete without a visit to the Louvre. Our visit was extra special (the whole trip to Paris was, really) because my dad and his wife booked us an amazing three hour tour, which included history of the Louvre as a fortress and palace and all of the art highlights that my sister and I picked to see for our own interest. Our guide, Virginie, asked both of us about ourselves, and Emily (sister) mentioned she was a violinist--and immediately the two of them went into a deep conversation about all of the musicians they know internationally! Virginie's husband owns the violin shop Vatelot-Rampal in the heart of Paris, where he houses Stradavarius violins, a huge selection of instruments from the 1600s, and regularly services famous musicians such as Yo-Yo Ma.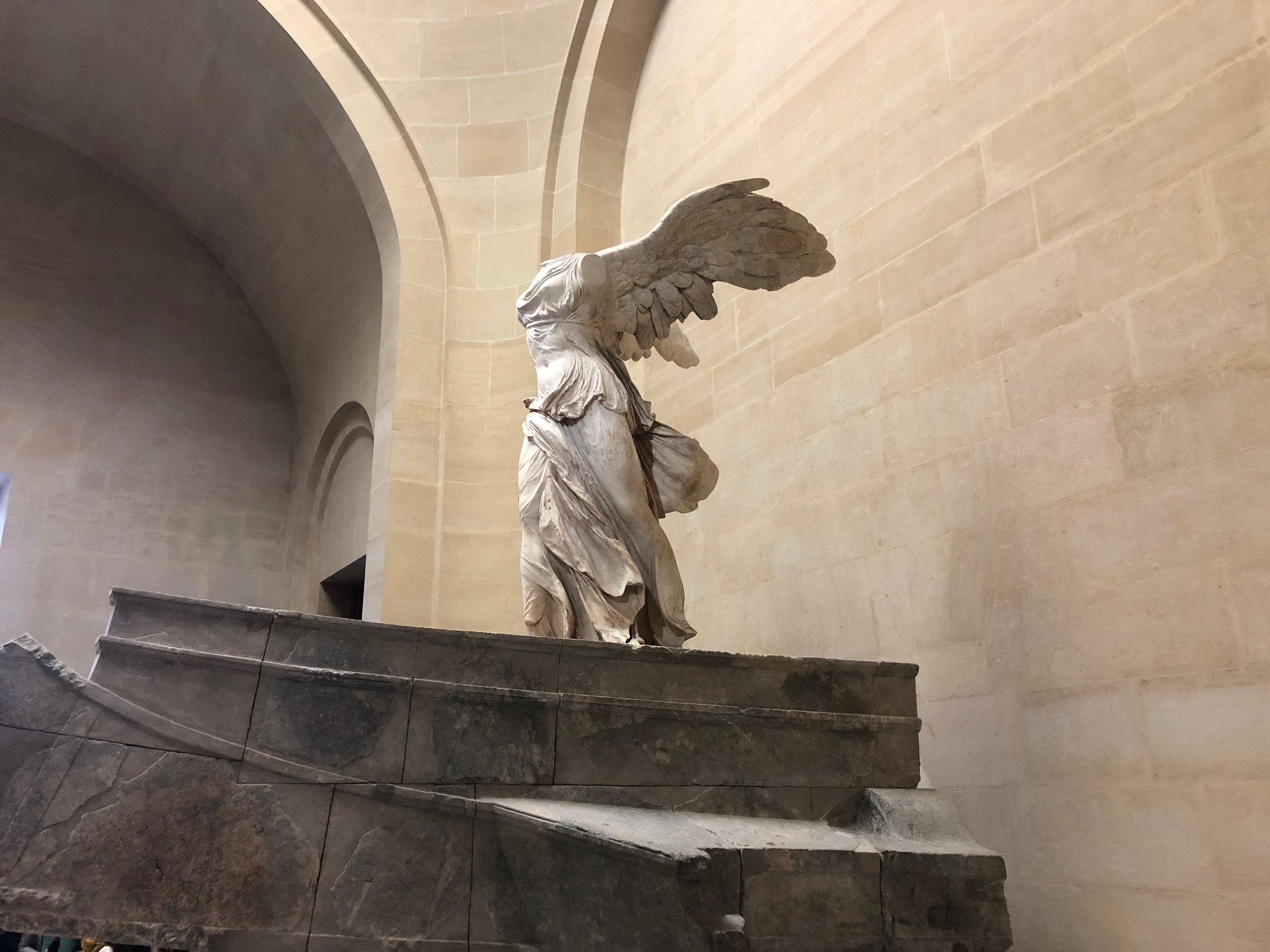 We definitely didn't think we would be able to top having the opportunity to have Emily play such old and valuable violins for an evening--but we hadn't even gotten to Emily's birthday celebration yet! We got to go out together to one of the typical Parisian outdoor cafe's and people watch, drink wine and eat massive amounts of cheese to celebrate Emily turning 24. The next day, although we woke up a bit late (thanks wine), we managed to do a full tour of Versailles--and to top it off--hardly anyone else was there! It felt like we had the palace and the gardens to ourselves. We got to run around and pretend to be Marie Antoinette the entire time!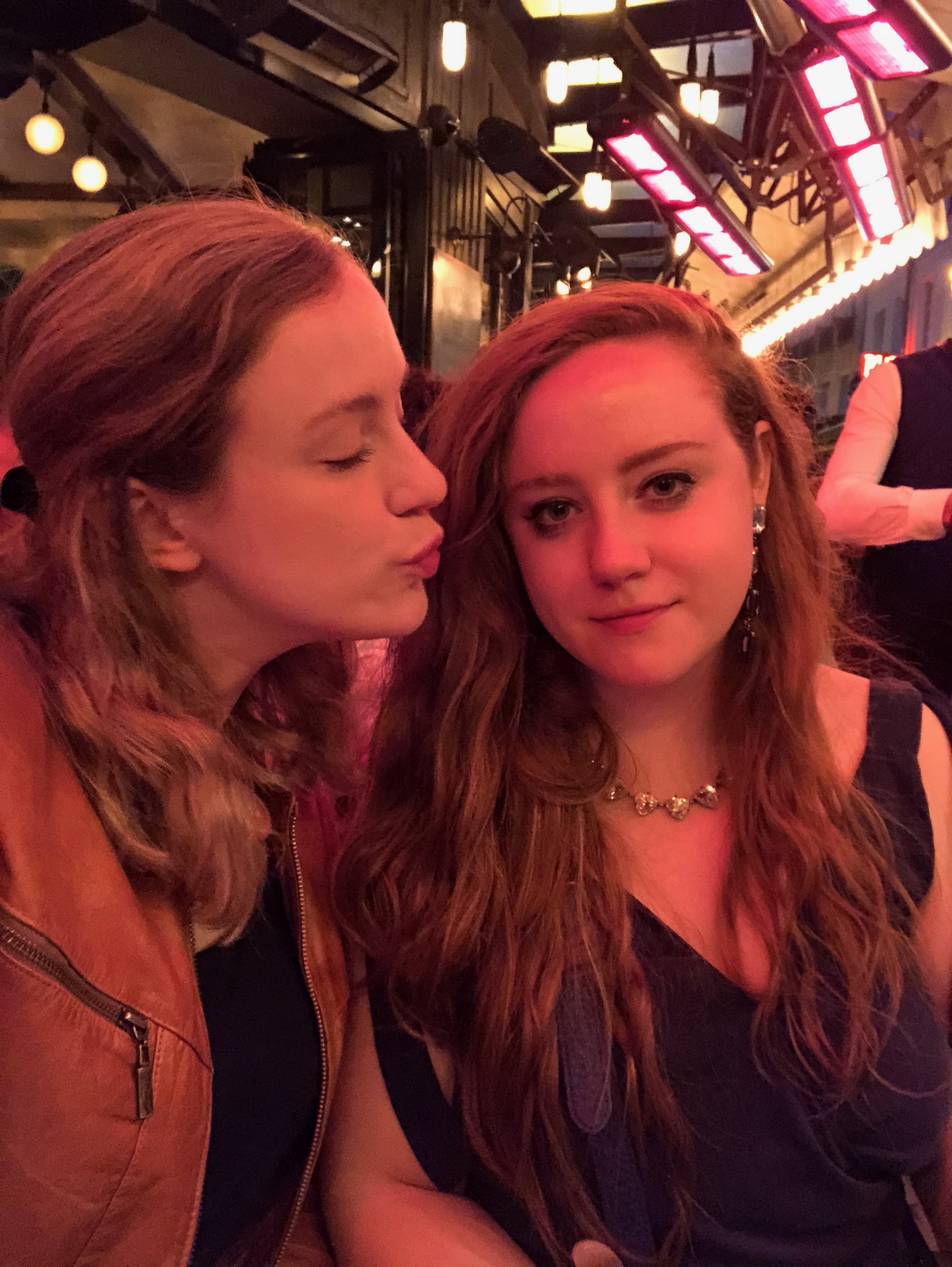 While we were in Paris, the train workers were in the middle of a major strike, which we knew before we arrived. However, we didn't realize the extent of the strike until we were there--for example, only one train to Versailles per hour--and no trains to Giverny that we could find. When we were trip planning for Paris, Giverny was the one thing on my last that I absolutely HAD to see. I had seen so many pictures of Monet's house and so many paintings of the garden by Monet himself--many of them at the Art Institute in Chicago that Emily and I like to frequent--so I had to visit. The day before our scheduled visit to Giverny, we couldn't find any decent train times, so I rented a car. Driving in Paris was a bit scary, though not as hard as I thought it would be! Since we had the car, we went ahead and drove all the way to the coast (why not?!) and spent the afternoon in the town Honfleur.
Giverny, while not in Paris, was my favorite thing that we did during the trip. The town and the gardens at Monet's house are completely breathtaking and a once in a lifetime experience. Honfleur was also one of the most beautiful and pristine beach town I have ever seen--I day dream about returning on a romantic vacation and spending a week walking on the English Channel and drinking a lot of Aperol Spritzes.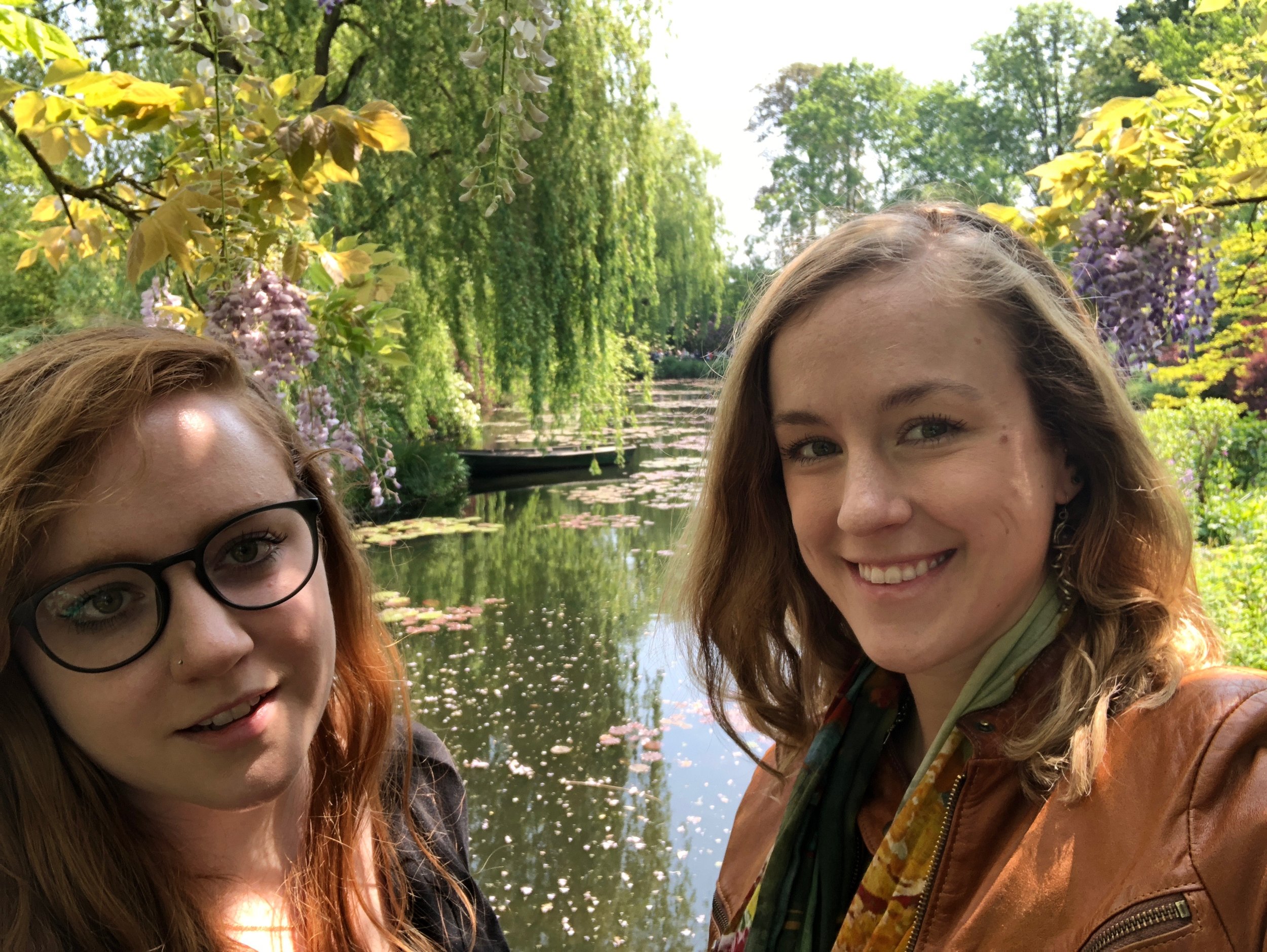 On our last full day in Paris, we wandered around again, making our way through some fresh air markets, both James Joyce's and Hemingway's houses, and we ended up eating nearby at the oldest restaurant in Paris.
After lunch, we walked over to the Eiffel Tower for a full VIP tour, which was amazing despite my fear of heights (although every time Emily went near a window I did freak out a bit). After our tour, we took a boat ride along the Seine, and then headed back over to the Tower with snacks in hand for dinner, toasting with Rose, and watching the Eiffel Tower light up! It was the perfect way to end our visit; we completely took advantage of the sunlight hours in Paris being from early morning until after 10pm. We were exhausted from all of our exploring, but incredibly happy with our trip. Next time we come we're doing cooking classes at Cordon Bleu!